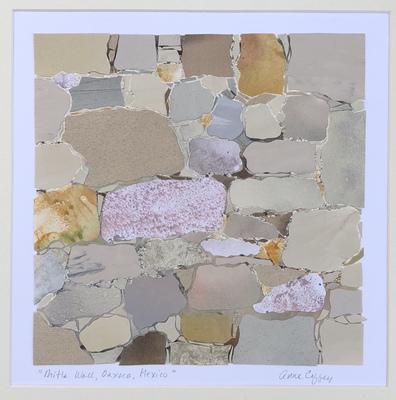 Mitla Wall, Oaxaca, Mexico (#1 in series)
2019
hand-painted paper collage
13"x13", matted & framed
sold --

I traveled with a friend to Oaxaca, Mexico. What an amazing, inspirational trip! In so many ways! I found myself fascinated with the ruins we visited, the stonework was beautiful. I took several photos of stone walls and buildings. I hope to use many of them for inspiration in my upcoming collage work.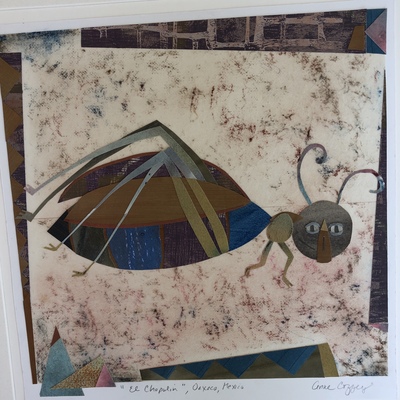 El Chapulin, Oaxaca, Mexico
2019
hand-painted paper collage, pastel crayon
17"x17", matted & framed
Contact me if you are interested --

Grasshoppers are a big thing in Oaxaca, I quickly learned. Not only did I see lots of grasshopper artwork, I also found that they (the real thing) are a source of protein in the Oaxacan diet. Many vendors in the markets had baskets full of tiny grasshoppers, inviting us to taste. So I did .... salty and crunchy, like nuts. Our waiter ground them up and stirred them into the salsa he prepared at our table one evening. Don't knock it! It was good!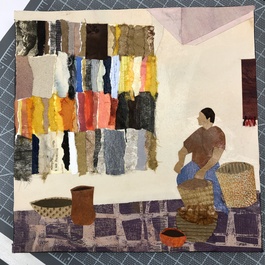 Oaxacan Weaver
2019
painted paper collage, found papers
16" x 16", matted & framed
sold -
We traveled to a village outside the city of Oaxaca to visit a family of weavers. One of the highlights of my trip!